I loved playing Presage's Lode Runner: The Legend Returns and its sequel, Lode Runner Online: The Mad Monks' Revenge. So much so, I'm rewriting it from scratch!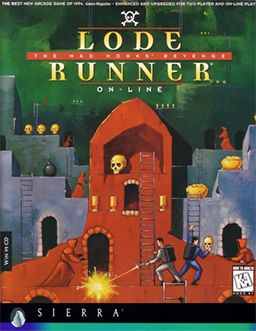 Box cover
Apart from classics like the Commander Keen series and Dangerous Dave, MMR was the first casual game I can remember playing (also the first and only Macintosh game) that was not only fun but didn't age (think of the film 'Entrapment' - very good at the time, but when I watched it last year, it was really bad which was quite disappointing).
I've played Lode Runner occasionally every few years and it just doesn't seem to age. I'm usually not a fan of old games or modern-retros but this game certainly hasn't lost its appeal - it's still the same fun game I remember as a kid. The Xbox 360 Lode Runner is fun to play, well-polished and a great example of a 2D/3D hybrid game, but it doesn't have the same feel to it as MMR or even Lode Runner 2. That and the puzzle making community is non-existent.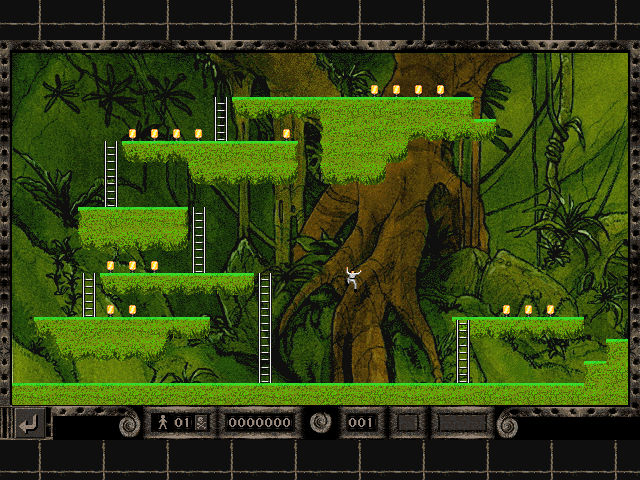 Lode Runner Online: The Mad Monks' Revenge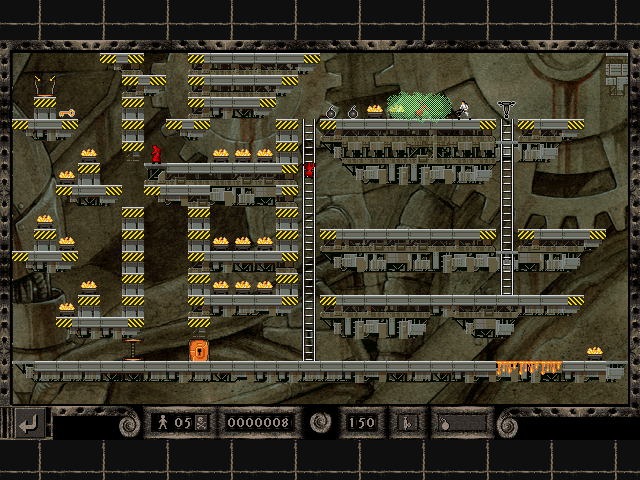 Feeling gassy!
I hadn't played MMR since I had an x86 Windows XP machine, so late in 2013, I fancied another go on my x64 Windows 8.1 PC. I couldn't get it to install. Turns out the installer is 16bit, but luckily, the game itself is 32bit so will run fine. No One Lives Forever (published by Sierra) released in 2000 also had the same problem.
If you do have a 32bit Windows PC, then you can just download the original copy from the Lode Runner lead programmer, Todd Daggert.
If you have a x64 machine, there are some fixes to get around the old installer:
use a PC with a 32bit copy of Windows XP
copy the games files over from an older PC with MMR already installed
use a new PC but run a virtual copy of Windows 95 or 98
use Windows 10 which can load and save games and puzzles. You can read how on my blog post here.
I tried the virtual machine route myself with VMware + Windows 95 with some success. I could play for about 10 minutes at a time before DirectX caused MMR to crash. Not very ideal. Others on the Yahoo! message board do this with VMware + Windows 98 with success. I wouldn't really call cranking up a virtual machine to play a simple game a solution or restricting yourself to a x32 machine.
The fix is simple; download a repackaged installer put together by Caleb @ FireYour.IT. Install it and away you go.
Unfortunately, I got the "Fatal Error" when attempting to load puzzles (both editor and game) or saved games under Windows 8.1. That basically rendered the game useless. Since Activision/Tozai haven't made a proper port available, this left me with no other option than to use my spare time to write my own version of The Mad Monks' Revenge from scratch! A quick web/YouTube search showed that even after 20 years, this game is still as popular as ever so other MMR fans can benefit from my obsession too.
IMPORTANT! I don't have the rights to Lode Runner (Tozai own them) or Mad Monks' Revenge (Activision/Sierra own that). This is not and official release, just a hobby project, closed source, and won't be making any money from it.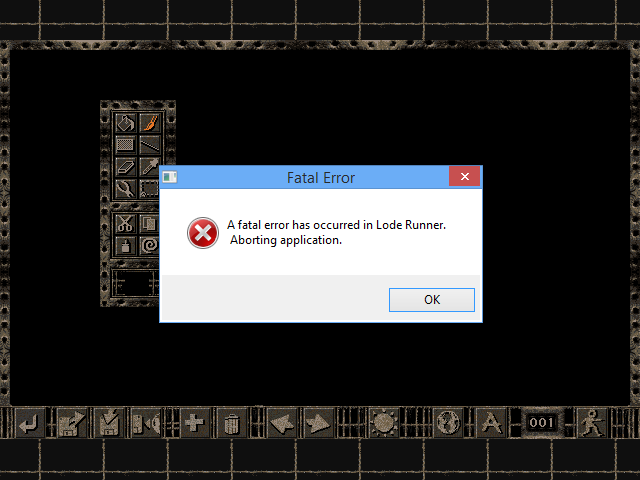 The mysterious and not very helpful "Fatal Error"
Features
The main goal of this rewrite is to be as close as possible to the original. When I first started, I didn't do any planning at all - I just jumped straight in. I did write down a few points that I was hoping to achieve:
Maintain the same gameplay
No obvious difference in style - use the original artwork and audio (including the studio recorded CD soundtrack)
Fix all known bugs (not really fixing: I obviously wouldn't be writing them in)
Make the editor a little easier to use by adding shortcuts, right+click mouse and scroll wheel support
Replacing the OS specific dialogs (message box, open/save dialogs, etc) with themed alternatives
Replace joystick with game controller support
Implement modern LAN/web networking to replace modem-based networking
Work on Windows, Mac OS X and Linux
Share puzzles directly within the game
Add more players
Adding these extra features and the re-working of some existing parts will benefit the game greatly without detracting from it (like adding 3D water, those odd cliffs and farms, and resource icons did to Age of Empires 2 on Steam - thankfully they've got rid of most of that nonsense). Update October 2015: nope, they've gone and added most of it back in...
Most of the changes are to do with modern PCs and gaming changing quite a lot in 20 years - you'd be surprised just how much quicker it is to use the editor when using more than the left mouse button combined with keyboard shortcuts.
How?
Since I don't have the source code and Sierra/Activision is hardly going to hand it out to me, the project would need to be created from scratch - sounds simple enough on paper but once you start, it's not as easy as that.
I'm writing the project with Microsoft Visual Studio (C#) and using FNA for the engine. FNA aims to accurately replicate Microsoft's XNA 4.0 engine + work cross-platform on all Desktop platforms.
You can find a complete list of all the hardware and software we use to create this project.
Fast-forward to 2017
Since the blog started the project has come along in leaps and bounds. In the last 3 and a bit years, the game is now nearly complete. Only online gameplay and tweaks here and there remain.
So, did we stick to our list of goals above? Yes! Every one! All game assets are loaded from the original data archives and all new or updated artwork uses the same format. Gameplay is a close as possible and more importantly, just as fun as the Original written 21 years ago.
Props to Douglas E. Smith for starting it all off and to Todd Daggert and all the folks at Presage for making such a great game.