Special thanks this week to MacLr and Howie for the Japanese translation of the game. I'm sure it is not quite what bb010g had in mind when he suggested using Transifex, but, language files are now in a LOCALE folder alongside the game data files. Feel free to create and modify your own language files.
A name in parenthesis and in bold is the finder of the bug/quirk. Thanks to all, I really do appreciate your time and support. Cheers!
Editor
you can now transfer lives between players when trying a puzzle
Game
fixed runners snapping/falling when on a monk incorrectly (MacLr)
fixed a bug that could crash when returning to the editor
fixed incorrect tooltip for current puzzle digit box (player one HUD)
fixed game crash when a runner collected a bomb (Andrew, Adam, 严冬)
fixed end-of-game/tombstone graphic using the wrong colour palette (Howie)
Web
LAN gaming is currently unavailable. I've no ETA at the moment on when it will be ready, sorry.
support added for host to skip puzzles
support added to transfer lives between Jake Peril and Wes Reckless
fixed monks doing different things on different machines
General
refactored scroll bar control
fixed incorrect padding in tooltips
rewrote tooltip drawing and handling
font files switched to use BmFont Angel binary format;
Arial Unicode (tooltips) reduced to 430kb from 3.3mb
total size of all three fonts is 801kb
Japanese options added to the Options dialog - currently, only tooltips will be in Japanese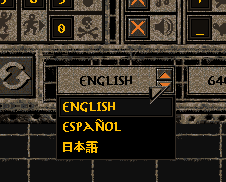 You can now select Japanese from the Options dialog
Bugs being worked on
switching to windowed mode hides the Dock (Sierra)
regen bomb timing does not accurately match the Original
What I'll probably do next
continue working on LAN
ability to 'pause' the game when testing and return after minor edits