Quite a lot has been done with this week on LAN plus a whack of general bug fixes and tweaks that have been on my TO-DO list for quite some time.
The June update will be out this Friday, the 1st of July.
A name in parenthesis and in bold is the finder of the bug/quirk. Thanks to all, I really do appreciate your time and support. Cheers!
Editor
delete key now works when deleting a selected region on OS X (Gareth)
Game
major update to players (runner/monks) to prevent random 'teleports' around the screen and to fix choppy animations when the game is played at full-speed
monks with no exit door will no longer attempt to spawn at a tile that has a fellow monk
fixed bug that prevented monks from moving randomly when a runner cannot be reached
It has been reported by quite a few Mac OS X users that monks run to the left. Quitting and starting again will fix this in most cases. Gareth and Nadia have been helping this week to work out why monks do this. It is very odd and quite tricky to pin down since it only appears to affect OS X and not Windows. Hopefully we can get it fixed soon.
LAN
LAN gaming has been coming along very nicely. My brother and I did a lot of testing two weekends ago and I'm happy to report it is a lot more stable now. Thanks again to Rick for being my guinea pig with LAN this week.
Here is what works in LAN games;
puzzle to puzzle
collecting/dropping tools
using tools (gas, goop, drill, pick-axe, keys, rope traps, bombs)
pre-game pause
restart a puzzle (host only)
skipping puzzles (host only when cheating)
One thing to do is to relax my bandwidth saving measures. Having six monks chase you while trying to work out which area of the puzzle can be drilled without rendering it insolvable and having your runner flick back and forth is very annoying ;)
General
fixed bug in error log reading tool
options dialog update;
new icon for left/right shift (from The Legend Returns)
added backspace (BCK) as a mappable key
updated the subtract icon
fixed alignment issues for some keys
added a new icon to show unassigned bindings - the Original has a dash but this looked too confusing being the same as subtract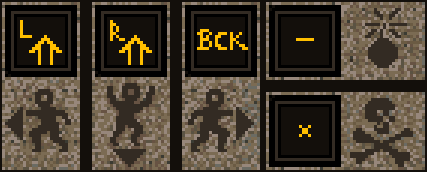 left shift, right shift, backspace, subtract, unassigned
Bugs being worked on
monks merging together on ladders (Leandro)
monks running to the left on Mac OS (every Mac user...)
What I'll probably do next week