This weeks update is a day early - some of you may have noticed that the last two updates were a few days late. I've caught up on work after my brother came to visit a fortnight ago.
The June build will be up shortly which you can grab from the downloads page.
A name in parenthesis and in bold is the finder of the bug/quirk. Thanks to all, I really do appreciate your time and support. Cheers!
Game
fixed monks ignoring rope traps if a runner is standing very close to the left of a trap (Jared)
runner fall sound effect no longer stops when he lands if another runner is still falling
LAN
Gameplay is on complete with only a few finishing touches to go. One major item remaining is improving gameplay with 200ms latency which will come next month.
host can alter the game speed
runners can transfer a life to another runner (F2/F3);
only Jake and Wes supported at the moment
gamers can cast only themselves into oblivion
added prompts when a gamer disconnects from the game or the host quits;
the prompt says the game will be saved for later - it lies. This will be added next build.
pause support;
each gamer has three pauses per session
only the player who initiated the pause can resume the game
you cannot move around to resume the game like you can in single or two-player games; you need to use the shortcuts or click on the hourglass icon
inspiration taken from StarCraft 1 LAN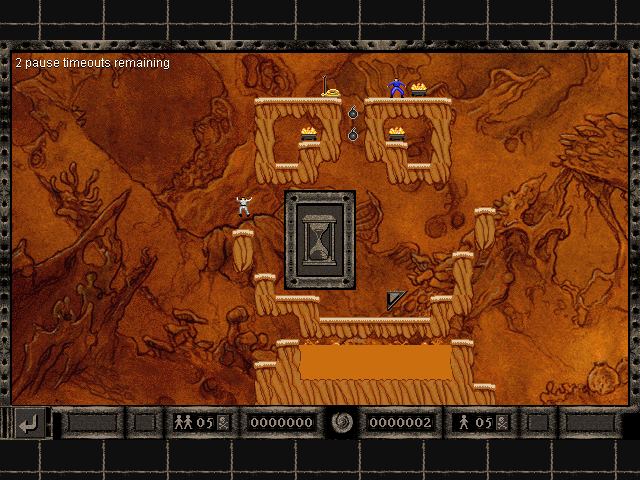 Host pausing a game
fixed bug with some tools crashing the game
fixed crash when toggling ready status in the lobby
What happens when a game is complete? At the moment, you are unceremoniously dumped back to the main menu.
All cheat codes work except for the YOG mode.
General
added F1 shortcut to toggle balloon help (Howie)
updated English language file;
only English is present at the moment but it is easy to add other languages
fixed bug that allowed the game to choose a screen resolution larger than the current display mode (Howie)
Bugs being worked on
monks merging together on ladders (Leandro)
monks bunching together too closely on ladders (Howie, Gareth, Me)
monks running to the left on Mac OS (every Mac user...)
What I'll probably do next week
bug fixes
monks getting to close together on ladders
improved upon LAN