I'm happy with the amount of work done this week on the project. I've not had as much time as usual free and the remainder of what I spent was updating the post-game credits movie, which you can read a detailed post on here.

*Updated post-game credits*

The next build is on target to be put up for download on either Monday or Tuesday (30/31st) Australian time.

Thanks to Jim Winkler (author of the LodeEdit tool) for getting in touch! If you don't have his excellent puzzle editor, you can get a copy from the downloads page.

A name in parenthesis and in bold is the finder of the bug/quirk. Thanks to all, I really do appreciate your time and support. Cheers!
Editor
when saving a puzzle with phase exit blocks present, the puzzle set will now be marked with a new file version. This will cause the Original game to show the "can't load this version" message box.
added missing sound effect to save button
added the runner count to the default filename in the save dialog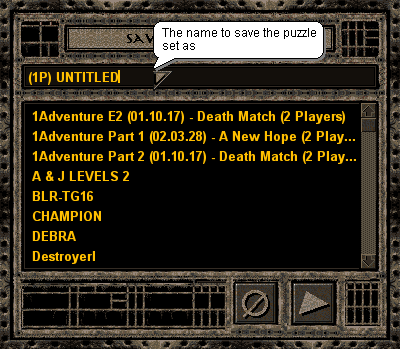 Saving a puzzle set with 1 runner
I've had quite a few requests regarding the file dialog but cannot add them all. The primary reason is I don't want to turn the simple dialog into a complex one (such as adding more folders or browsing around the OS). A request I've had a couple of times is a way to indicate if the set is for one or two runners. As you can see in the screenshot, when saving a new puzzle set, the default filename will show how many runners the set is designed for.
Game
fixed bug that did not set the UI or game mode the same as the Original;
the game mode will switch between 1P or 2P depending on the current puzzle
fixed bug that did not allow monks to eat runners if they were waiting on other monks (Leandro)
fixed bug with runners not being able to correctly stand on a monk (Leandro)
mouse cursor will hide on the start of a game
mouse cursor no longer moves during gameplay (will still control mouse when a dialog is open)
gamepad fixes;
added force feedback for blasting
increased force feedback for most animations
fixed gamepads causing players to move in the wrong direction (Howie)
fixed monks eating runners too far away when walking on goo covered blocks
LAN
numerous interface tweaks
transferring of puzzle set added;
these puzzle sets will be downloaded to the PUZZLES\WEB folder in your game directory
removed vast quantities of old code
Some of you may have played an earlier build with LAN. I won't go into it again why it was removed but what you don't know is that it wasn't actually removed at all - the option on the main menu was just disabled. The new LAN is being developed side-by-side with the original. With the lobby system just on complete, I've been able to remove a large portion of the old code.
General
previewing puzzle fixes;
exit ladder no longer show - this matches the Original
phase exit blocks show as blastable blocks
fixed positioning of tooltips attached to large controls (puzzle schematic, for example) in full-screen
current tooltip will be cleared when toggling between window modes
fixed the post-game credits (blog post here)
the default gamepad binding to drop a bomb is now Y
Bugs being worked on
What I'll probably do next week